Tag Archives:
target
You guys. Target is ripping off Anthropologie hardcore.
Anthro: $118
Target: $39.95
I have also been exploring this sketchy Chinese website called AliExpress.com (found from this Emily Henderson post) and they also have this suit for $15 but are clearly stealing Anthro's product picture. I, being a huge cheapo, decided to take my chances on it. It's shipping from China. I'll let you know when/if I get it.
And then there's also this wrap style, which comes back every year and gets yuuuuuuuge (said in my best Donald Trump voice) ratings.
Anthropologie: $118 (Anthro has this in a few prints every year)
Target: $39.99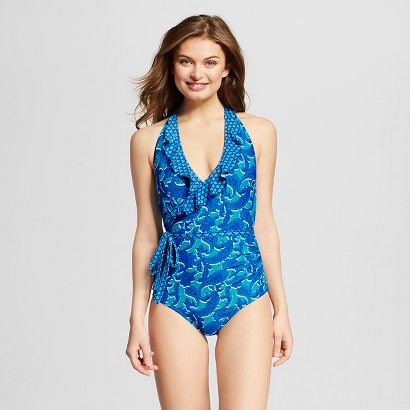 ---
Yes, another Target post. Last weekend I declared that going to Target alone is one of life's greatest joys, and I am not backing down from that. Here's some cute new stuff:
One: There are very, very similar boxes from Crate & Barrel for, like, $50. Buy these. They are so cute and affordable.
Two: This is marked down to $35, so it's probably gonna go fast if it's not already gone. I keep trying to find a spot for this in one of my bathrooms but the reality is that my bathrooms are small. My friend Jen has something similar in her big, luxurious bathroom and I am eternally jealous that our bathrooms can't match.
Three: I'm obsessed with this. Less than $100, and looks like it would add a lot of texture and interest in any room. Hoping it would work at the end of the bed we just ordered.
Four: Ordered these. Brass ram bookends? Yes.
Five: Saw this in store and it looks so much more expensive than it is. But – it's kinda too small for a traditional coffee table and a little low to be a side table, so I can't figure out how to use it. If you live in a small space or are more creative than I am, get it. Now. Plus, it's under $100.
Six: I obviously love a bench.
Seven: I, um, also own this. It goes perfectly in our living room and it is big enough and adds more interest and texture than framed pictures or art. It apparently doesn't photograph that well because it looks a lot better in person. Josh even likes it and he is mostly anti-rug-wall.
Eight: This is in Target's patio collection. It's way cute for outside, but wait for it to go on sale. You know it will.
---
Hey guys – deal alert!
Target has 40% off sweaters online today, making them basically free. Here are the best finds: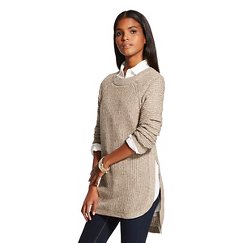 Love the high-low hem on this one. Looks much more expensive than it is!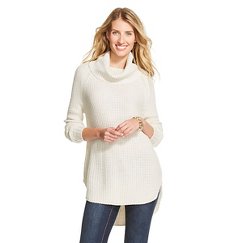 Pair this with leather leggings or these sparkly pants (obsessed and 40% off during friends and family sale!) for a luxe look.
The front on this sweater is pretty plain, but I'm into the design on the back. I actually just bought this sweater (not at 40% off…) and it's a great fit and the back is just long enough to make it acceptable with leggings for a shortie like me. And it's like $16 today.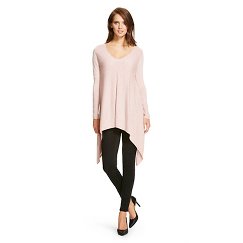 I have this sweater in pink and it is so good that I'm buying it in gray, too. It is super flattering and looks great with a blanket scarf and jeans.
Target is now offering free shipping and returns on every order, and you can get 5% off everything with the Target Redcard.
---